Setting Up Lightroom
While we are continually trying to make updates to PFixer to ensure it can communicate effectively with Lightroom in most interface configurations, the following tips may help PFixer operate.
The Binding Process
PFixer works by "binding" itself to each of the Develop Module sliders after Lightroom has started and the Develop Module is active. Sometimes during Lightrooms normal operation, the sliders or other controls in the interface may "disappear" (e.g. you are working in the Slideshow Module and Lightroom or OSX needs to free system memory) and must be re-bound. If you switch to a different library or if Lightroom is restarted, the controls must also be re-bound.
Normally, the binding process occurs automatically as needed. When PFixer needs to rebind controls, it will attempt to do it automatically. This may occur with visual indicators during longer binding processes (such as the intial binding) but often occurs behind the scenes while you work.
If you find that PFixer is not responding normally, it may need to be reinitialized. Simply select Reinitialize Bindings from the PFixer menu (shown above).
Develop Panel Setup
When PFixer attempts to "bind" the Develop Module sliders, they must be visible on the screen. To ensure the panels are showing, PFixer will automatically display all the panels to ensure the binding process takes place as expected.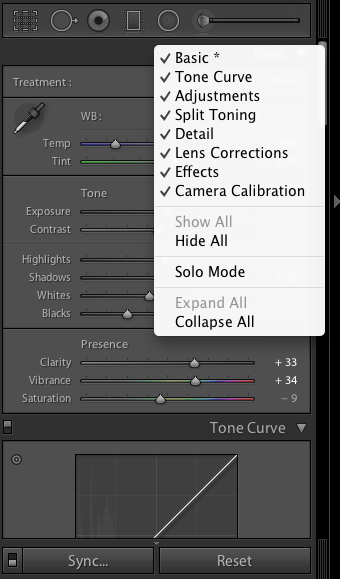 Presets Panel Setup
Like the Develop Module slider panels, the Presets Panel must be visible on the screen during the binding process.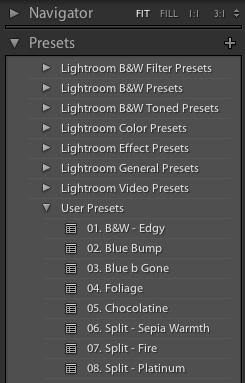 During production use, the presets panel must be visible if you want to be able to apply presets via PFixer. If needed, PFixer will scroll the preset into view and use the mouse to "click" on the preset as if you were doing it yourself.